Benostan Venocontract Gel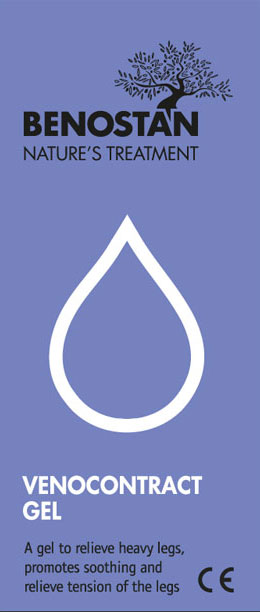 A soothing leg gel, aims in providing relief for common symptoms caused by varicose veins.
Indications:
• Tired and heavy legs
• Circulatory disturbances of the lower limbs
• Varicose veins
• Swelling of the legs
How it works:
Soothing Gel Benostan Venocontract Gel contains olea europaea leaf extracts which include polyphainoles, Vitamins A, E, K that offer moisturizing and anti-oxidant action to soften skin and lock in moisture. At the same time stimulate the natural production of collagen that forms a protective film that nourishes the skin so that the skin can be better moisturized, retain and promote synergistic action of the other active ingredients, menthe piperita, chamomile, hypericum perforatum and salvia officinalis offering an immediate relief from the common symptoms of varicose veins (tired and swollen legs, circulatory disturbances of the lower limbs).
Its herbal formula assists microcirculation of the lower limbs.
Instructions of Use:
The product is applied on whole leg surface, but especially on the suffering areas. Application requires a downwards to upwards gentle massaging until the product is absorbed. The relief is immediate; furthermore the legs' skin itself becomes smooth and supple. Apply when needed throughout the day.
External Use in intact skin
NO: Parabens, Colors, Silicon, Propylene Glycol, Mineral Oils, Ethanolamine's
Made in Greece
Medical Device Class I CE
Benostan Health Products
11, Paridos Str., Vrilissia, 15235, Athens, Greece
Tel: +30 210 6134952
www. benostan.gr